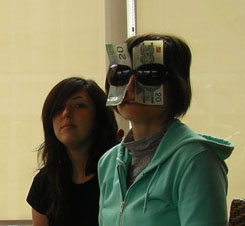 me & one of my wealthy guests!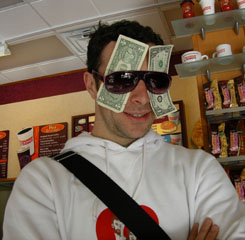 american currency, too!

It's been a crazy past week or so. I had visitors from NYC staying with me for a week and it was so nice to have the house alive and full of people. We went out a lot and ate a lot and complained about being fat and hideous (well, maybe only two of us were involved with the body image misery stuff). Now I am on my own again and while I enjoyed having a little bit of time to myself, I wish I were expecting guests all over again. I will post fotos of the alllllll the good times. Just as soon as I finish photoshopping gleaming white teeth and a svelte waistline into all the shots.
A derelict kissed my hand this morning. He asked for change. I obliged. He smooched my palm. A fair trade, methinks.